A History of Our Building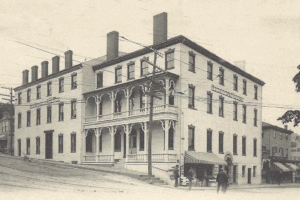 Watch to see how different the building looks today!
GAP Promo is Located at 1 Washington in Gloucester, MA. A Location with a storied past filled with history and community. It was the first brick building to be built in the city.
It was built in 1810 by James Tappan, a schoolteacher. T
appan operated Tappan's Hotel on the premises, and it served as a major social center for the community. Later owners also operated it as a hotel space, including one who gave it the name "Puritan House"
After that it was taken over as the Blackburn tavern; named after Howard Blackburn – a local icon who
despite losing his fingers at sea in 1883, prospered as a businessman. Yearning for adventure, he twice sailed single-handed (quite literally) across the
Atlantic Ocean
, overcoming his disability and setting record times for the crossing.
Many people still recall fondly their memories at the Blackburn Tavern. We often get visitors who came to the building when they were younger to dance and drink here, or to catch a concert or just to get some good food.
Today the Blackburn Tavern his home to GAP Promo who is making history in its own right.

Our founder and president Gayle Piraino founded the company in 2006 bringing along many years of experience with her. GAP Promo is a certified women-owned small business with expertise in the food and beverage industry. February marked our 11th year. In our 11th year let us put our experience to work for you! If you're looking to buy custom products, visit us at www.gappromo.com and keep up to date with us as we make history by following us on Facebook, Twitter, Instagram, Pinterest, and Blog Spot.